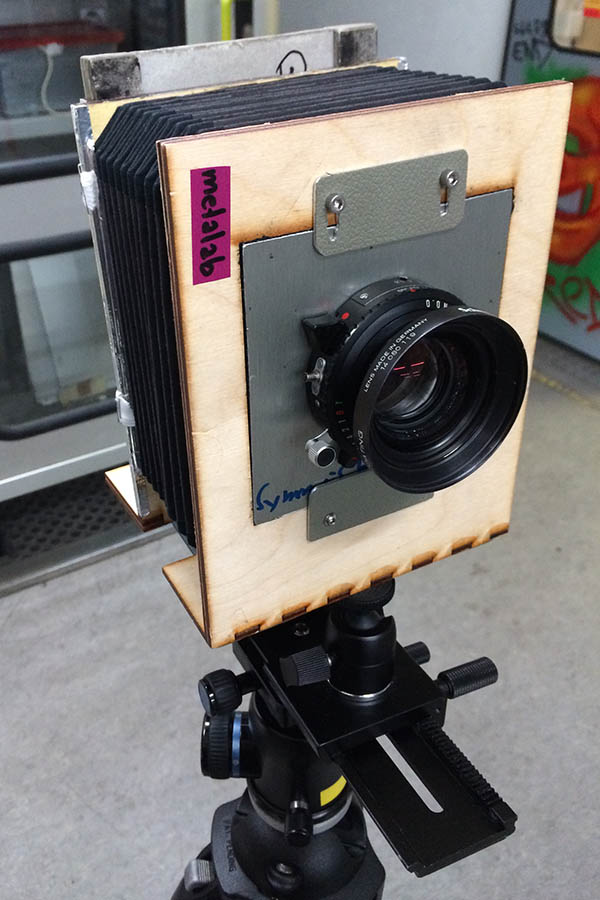 In the spirit of diy the camera used to make these pictures is a 4x5 inch large format camera built mostly from scratch by a handful of people from metalab and myself. We call it the MHC or

Modestly Huge Camera

and what you see here is the third iteration of our design. The entire camera is designed to be as simple to build as possible.
It consists of 3 main parts:

The front standrad which holds a lens plate.
The bellows which provide a flexible part to enable focusing.
The rear standard which holds the film holder or focusing screen.
Most parts of the camera are made of lasercut plywood. A noteable exception to this are the bellows, wich are constructed out of cartboard and linen (on the edges). The focusing rail on the bottom is pre-made and connects to the camera via two small standard tripod heads. We have not managed to build our own lens yet, but large format lenses are readily (and affordably) available on the used market.